Upgrading your PoE (Power over Ethernet) network switch from 100 Mbps to 1000 Mbps can potentially lead to higher speeds for your UniFi AC LR wireless access point (AP) if the bottleneck in your network was the previous 100 Mbps switch. However, it's important to note that several factors can affect your wireless network speed, and upgrading the switch alone may not guarantee a significant speed increase.
Here are the steps to upgrade your network switch and potentially improve your wireless network speed:
Select a Gigabit (1000 Mbps) PoE+ Switch: Ensure that you purchase a PoE network switch that supports Gigabit Ethernet (1000 Mbps) speeds. Verify that it also has enough PoE ports to power your UniFi AC LR AP and any other PoE devices you may have. In my case today Unifi AC LR takes 6.5 Watt maximum power consumption. Other higher AP's can take upto 30 Watt Power Consumption so calculate you rpower requirements accordingly.

I bought a D-LINK 24 Port Gigabit POE+ Switch with 250 Watt and 250 Mtr Capacity. As I have 14 Devices and my cables are running more than 100 Mtr. on 3 Floors so i wanted to be sure of capacity for future use also.
Install and Configure the New Switch:
Physically install the new PoE switch in your network setup.
Connect the switch to your existing network infrastructure (router, modem, etc.) using appropriate Ethernet cables.
Configure the switch with the necessary settings, such as VLANs, if applicable.
Connect the UniFi AC LR AP:
I had POE adapters for all AP which i removed to clear the rack space and make is more easy with POE Switch.
Connect the UniFi AC LR AP to one of the Gigabit PoE ports on the new switch using an Ethernet cable.
Ensure that the PoE functionality on the switch is enabled for the port connected to the AP so that it receives power through the Ethernet cable.
Configure the UniFi Controller:
If you're using a UniFi Controller for managing your AP, access the controller's interface and update the configuration to reflect the changes.
The UniFi Controller may detect the new AP if it's properly connected to the network.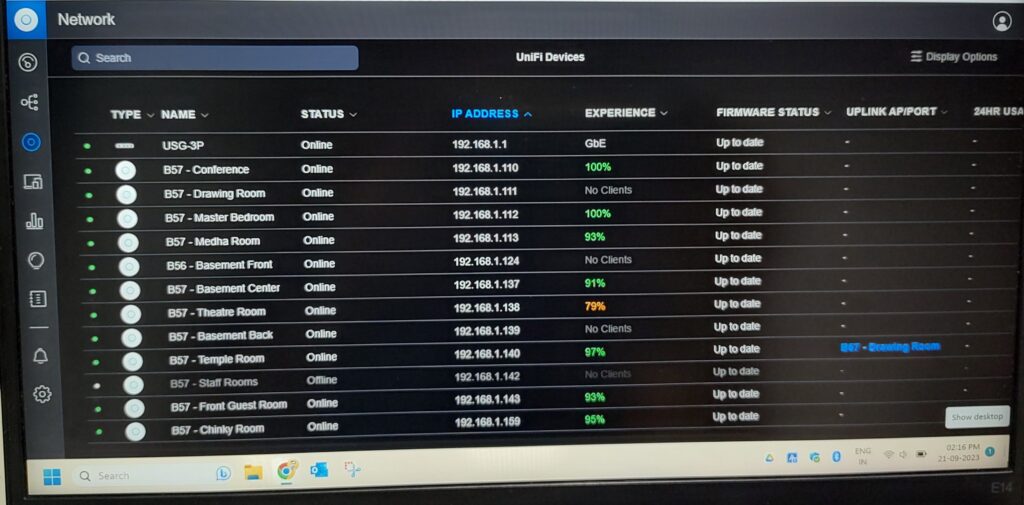 Test the Speed: To see if the network speed has improved, perform speed tests from devices connected to the UniFi AC LR AP. You can use online speed test tools or dedicated applications to assess your wireless network's performance.
I was getting max 50 to 70 MBPS speeds on wireless with 2.4 GHz. after replacing POE injectors with Gigabit POE+ Switch I got speeds from 270 MBPS to 350 MBPS depending on laptop wireless card configuration
It's important to remember that while upgrading the switch can eliminate a potential bottleneck, other factors can also affect your wireless network speed, such as interference, distance from the AP, and the capabilities of the connected devices. If you want to further optimize your wireless network speed, consider:
Ensuring that your wireless devices support the latest Wi-Fi standards (e.g., 802.11ac or 802.11ax).
Positioning the UniFi AC LR AP in an optimal location to minimize interference and maximize coverage.
Reducing the number of devices sharing the wireless network to reduce congestion.
Adjusting the Wi-Fi settings on the UniFi AC LR AP through the UniFi Controller for optimal performance.
By addressing these factors in addition to upgrading your switch, you can work towards achieving higher wireless network speeds with your UniFi AC LR AP.
Need support with improving wireless performance with existing devices, or need high performance wireless network which can be managed centrally for home, office, campus, etc..

Let's Connect